November 3, 2022 | 9 Cheshvan, 5783
Many educators at the Florence Melton School of Adult Jewish Learning, an affiliate of the Hebrew University of Jerusalem, use Sefaria to research and prepare materials for classes — but one particular course has integrated Sefaria into the curriculum itself in order to enable a deeper learning experience for students.
Clickable Wisdom: Using Sefaria's Digital Library to Uncover Everyday Ethical Teachings traces the development of Jewish thought over time on four topics with modern relevance. To do so, the class explores and compares Jewish texts to see how ethical ideas transmit and transform between them. The Sefaria library — which is home to 3,000 years of Jewish texts — provides free, digital access to the source materials used in the course. But just as importantly, the unique features of the Sefaria platform enable a rich experience of these texts and their interconnections for new and experienced learners alike.
Created by Melton in partnership with Sefaria's learning department, the course was first offered in early 2022 under a different name by Sefaria Chief Learning Officer Sara Wolkenfeld. Due to its initial success, the four-week curriculum will return in an adapted form on November 12, this time taught by Rabbi Ben Kramer. (
Registration is currently open
through Melton's website.)
"We initiated the process [of creating this class] with Sefaria because we felt that Sefaria's tools would be a compelling foundation for a course on the evolution of Jewish practices," says Adi Stein, Online Learning and Community Engagement Manager at the Melton School. "Additionally, we felt that our community of learners would benefit greatly from experience using Sefaria's website and technology."
Melton is the largest pluralistic adult Jewish education network in the world. More than 50,000 learners have taken Melton courses in-person or online, and a large portion of them are repeat participants. Course topics range from Kabbalah to democracy to humor, all intended as lively, interactive experiences that make the study of Jewish texts and ideas accessible and relevant to learners' lives.
However, Clickable Wisdom is the first Melton course to utilize Sefaria, or any digital Jewish technology, as a key component of its curriculum. Participants simultaneously explore Jewish ethics and build the skill of engaging with Jewish text, both generally and on the Sefaria platform specifically.
"Using the platform is key, as far as we are concerned. This course would still be interesting with just source sheets, but we feel it is more of a Melton program because we are engaging our learners actively through Sefaria's tools," says Stein. "Essentially we are offering learners a chance to become comfortable with all that Sefaria has to offer as a modern day piece of literacy."
Learning to use Sefaria goes hand-in-hand with learning how to study Jewish texts. Navigating through the library promotes familiarity with the structure of the Jewish canon, much of which builds upon itself in ongoing, intergenerational conversation. Clickable Wisdom traces this textual evolution by examining how four ethical topics appear in the Bible, then in the Talmud (which expands on Jewish law and wisdom), and then in medieval and modern works (which take biblical and talmudic ideas even further).
Additionally, Sefaria is designed to highlight interconnections between texts, encouraging users to follow the conversational nature of Jewish thought seamlessly on the platform. This works in several ways:
When a text references another text in the library, those texts become "linked" on Sefaria.
With the Related Texts feature, users can click on any verse to view its linked texts, including commentaries.
Using the Compare Text feature, users can view two or more texts side-by-side on a single screen.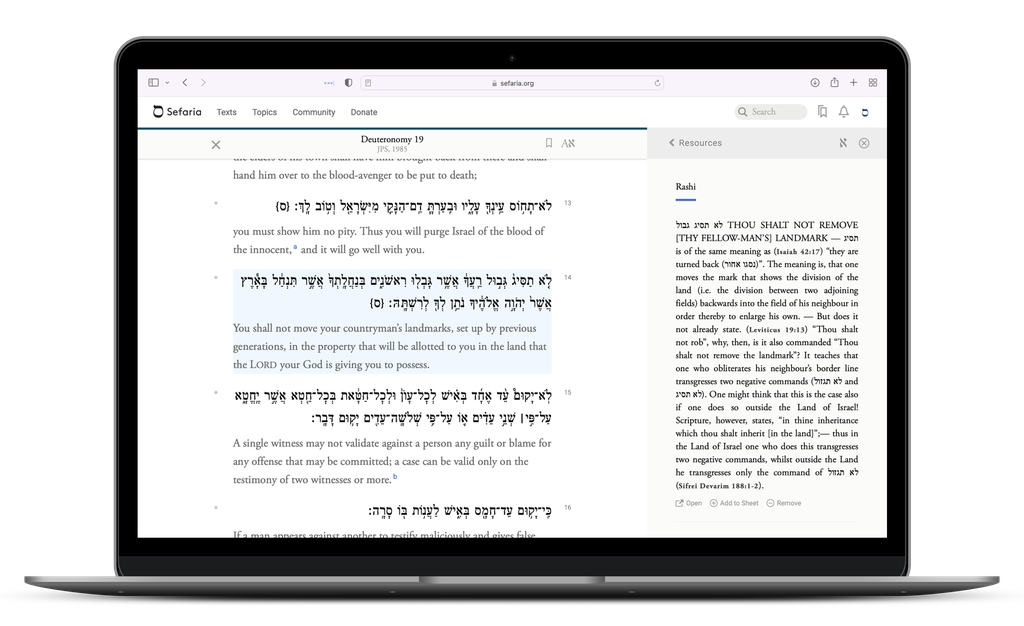 In Clickable Wisdom, learners join the teacher in accessing texts and navigating between them, technically and conceptually. This develops the skill of how to research a Jewish idea, which learners can take with them into their own studies on or off the Sefaria platform. Stein cites this as one of the positive outcomes of the course: "We found it successful in the way it engaged our learners and the access that it gave them to what for many was a new way of accessing some of our most cherished texts."
Beyond core Jewish texts like the Torah and Talmud, Sefaria is home to numerous lesser-known works, as well as extensive user-generated content drawing on materials from the library. With basic knowledge of how to use Sefaria, learners gain access to an ever-growing body of Jewish thought, to which they can even become contributors to themselves. The course is intended to empower learners with the skills to use Sefaria on their own and use all that the library has to offer in their long-term learning journeys.
"What Sefaria does is unique," Stein says. "Because we have such a strong focus on texts in our courses, it fits perfectly with what we do — in terms of texts but also in terms of access to diverse perspectives. That's important to us."
Clickable Wisdom: Using Sefaria's Digital Library to Uncover Everyday Ethical Teachings meets weekly between November 14 and December 5, 2022. The course is offered on a sliding payment scale. Visit Melton's website to
get more information and sign up
.