Adon Olam is a piyyut that became popular in the 15th century and is often attributed to Solomon ibn Gabirol (1021–1058) and less often to Sherira Gaon (900-1001), or his son, Hai ben Sherira Gaon (939-1038).
(א) אֲדון עולָם אֲשֶׁר מָלַךְ. בְּטֶרֶם כָּל יְצִיר נִבְרָא:
לְעֵת נַעֲשה בְחֶפְצו כּל. אֲזַי מֶלֶךְ שְׁמו נִקְרָא:
וְאַחֲרֵי כִּכְלות הַכּל. לְבַדּו יִמְלךְ נורָא:
וְהוּא הָיָה וְהוּא הוֶה. וְהוּא יִהְיֶה בְּתִפְאָרָה:
וְהוּא אֶחָד וְאֵין שֵׁנִי. לְהַמְשִׁיל לו לְהַחְבִּירָה:
בְּלִי רֵאשִׁית בְּלִי תַכְלִית. וְלו הָעז וְהַמִּשרָה:
וְהוּא אֵלִי וְחַי גואֲלִי. וְצוּר חֶבְלִי בְּעֵת צָרָה:
וְהוּא נִסִּי וּמָנוס לִי. מְנָת כּוסִי בְּיום אֶקְרָא:
בְּיָדו אַפְקִיד רוּחִי. בְּעֵת אִישָׁן וְאָעִירָה:
וְעִם רוּחִי גְּוִיָּתִי. ה' לִי וְלא אִירָא:
You were cosmic Lord, Adonai Malakh [that which reigned] Before there even was a world
Then Your will all things did make
Adonai Melekh [that which reigns] we call you now.
Once when all things will cease to be
Adonai Yimlokh [which will reign] still true will be
You were, You are, eternally
Resplendent to infinity.
You alone, there are not two
To join as friends, as lovers do.
Beginningless and without end
You keep all one
by plan and strength.
You are my God, Redeemer,
Life Protecting me in war, in strife.
My holy haven and my flag
My cup of health for what I lack.
Into Your hand I trust my breath
You breathe in me by night, by day.
My body is Your tool, Your gift.
With You as mine I'm not afraid.
- trans. Rabbi Zalman Schachter-Shalomi
Last stanza more literal translation:
Into God's hand, I entrust my soul, [for] when I sleep, [I know that] I will wake.
And with my spirit is my body;
God is for me; I'm not afraid.
Adon Olam transliteration
Adon olam, asher malach, b'terem kol y'tzir nivra.
L'et na'asah v'cheftzo kol, azai melech sh'mo nikra.
V'acharey kichlot hakol, l'vado yimloch nora.
V'hu haya, v'hu hoveh, v'hu yih'yeh b'tifara.
V'hu echad, v'eyn sheni, l'hamshil lo, l'hachbira.
B'li reishit, b'li tachlit, v'lo ha'oz v'hamisrah.
V'hu Eli, v'chai go'ali, v'tzur chevli b'et tzarah.
V'hu nisi umanos li, m'nat kosi b'yom ekra.

B'yado afkid ruchi, b'et ishan v'a'irah.
V'im ruchi g'viyati, Adonai li v'lo ira.
The idea that the soul leaves the body and travels during the night into other realms is an ancient one. Some of the first things traditionally said upon awakening therefore have to do with welcoming the soul back into the body, and being grateful for its safe return.
מוֹדֶה אֲנִי לְפָנֶיךָ מֶלֶךְ חַי וְקַיָּם שֶׁהֶחֱזַרְתָּ בִּי נִשְׁמָתִי בְּחֶמְלָה, רַבָּה אֱמוּנָתֶךָ:
I give thanks before you, living and eternal Spirit (or King), for you have returned my soul within me; great is your faithfulness!
(ז) אֱלֹהַי, נְשָׁמָה שֶׁנָּתַתָּ בִּי טְהוֹרָה. אַתָּה בְרָאתָהּ, אַתָּה יְצַרְתָּהּ, אַתָּה נְפַחְתָּהּ בִּי, וְאַתָּה מְשַׁמְּרָהּ בְּקִרְבִּי, וְאַתָּה עָתִיד לִטְּלָהּ מִמֶּנִּי, וּלְהַחֲזִירָהּ בִּי לֶעָתִיד לָבוֹא. כָּל זְמַן שֶׁהַנְּשָׁמָה בְּקִרְבִּי מוֹדֶה אֲנִי לְפָנֶיךָ ה' אֱלֹקַי וֵאלֹקֵי אֲבוֹתַי. רִבּוֹן כָּל הַמַּעֲשִׂים אֲדוֹן כָּל הַנְּשָׁמוֹת. בָּרוּךְ אַתָּה ה', הַמַּחֲזִיר נְשָׁמוֹת לִפְגָרִים מֵתִים:
(7) My God, the soul that you placed within me is pure. You created it, You formed it, You breathed it into me, and You preserve it within me. And in the future, You will take it from me and restore it in the Time to Come. All the time that this soul is within me, I am thankful before You, Divine-One, my God and the God of my ancestors, Ruler of all creation, Master of all the souls. Blessed are You, Divine-One, Who restores souls to dead bodies.
With this emphasis on the soul leaving overnight - and potentially not returning - we have already noted that one aspect of the Bedtime Shema practice is as a preparation for death. Recall this framing text from Pirkei Avot, as well as the idea from Talmud Shabbat that sleep is 1/60th of death.
Naturally, if we really see sleep as a preparation for death (or a possible gateway to death), then we must prepare for it as we would for death: with self-absolution, confession and forgiveness.
רַבִּי אֱלִיעֶזֶר אוֹמֵר,
יְהִי כְבוֹד חֲבֵרְךָ חָבִיב עָלֶיךָ כְּשֶׁלָּךְ,
וְאַל תְּהִי נוֹחַ לִכְעֹס.
וְשׁוּב יוֹם אֶחָד לִפְנֵי מִיתָתְךָ.
וֶהֱוֵי מִתְחַמֵּם כְּנֶגֶד אוּרָן שֶׁל חֲכָמִים, וֶהֱוֵי זָהִיר בְּגַחַלְתָּן שֶׁלֹּא תִכָּוֶה...
Rabbi Eliezer says:
The honor of your friend should be as dear to you as your own; do not be easy to anger; and repent one day before your death. And warm yourself by the fire of the Sages...
This prayer is taken almost verbatim from Talmud Brachot 60b, where it immediately precedes the sequence of morning blessings.
בָּרוּךְ [אַתָּה ה', אֱלֹקֵינוּ מֶלֶךְ הָעוֹלָם] הַמַּפִּיל חֶבְלֵי שֵׁנָה עַל עֵינַי, וּתְנוּמָה עַל עַפְעַפַּי, וּמֵאִיר לְאִישׁוֹן בַּת עָיִן.
יְהִי רָצוֹן מִלְּפָנֶיךָ ה' אֱלֹקַי וֵאלֹקֵי אֲבוֹתַי, שֶׁתַּשְׁכִּיבֵנִי לְשָׁלוֹם, וְתַעֲמִידֵנִי לְחַיִּים טוֹבִים וּלְשָׁלוֹם,
וְתֵן חֶלְקִי בְּתוֹרָתֶךָ, וְתַרְגִּילֵנִי לִדְבַר מִצְוָה, וְאַל תַּרְגִּילֵנִי לִדְבַר עֲבֵרָה, וְאַל תְּבִיאֵנִי לִידֵי חֵטְא, וְלֹא לִידֵי נִסָּיוֹן, וְלֹא לִידֵי בִזָּיוֹן, וְיִשְׁלֹט בִּי יֵצֶר הַטּוֹב, וְאַל יִשְׁלֹט בִּי יֵצֶר הָרָע, וְתַצִּילֵנִי מִיֵּצֶר הָרָע וּמֵחֳלָאִים רָעִים,
וְאַל יַבְהִילוּנִי חֲלוֹמוֹת רָעִים וְהִרְהוּרִים רָעִים,
וּתְהֵא מִטָּתִי שְׁלֵמָה לְפָנֶיךָ,
וְהָאֵר עֵינַי פֶּן אִישַׁן הַמָּוֶת.
בָּרוּךְ [אַתָּה ה'] הַמֵּאִיר לָעוֹלָם כֻּלּוֹ בִּכְבוֹדוֹ:
Blessed [are You, Divine-Power, our God, Sovereign of the Cosmos] that causes the bonds of sleep to fall upon my eyes and slumber upon my eyelids, and that illuminates the pupil of the eye.
May it be your will, Divinity, my God and the God of my forebears, to lay me down in peace and to raise me up for good life and for peace.
Let my portion be in your Torah, and may you accustom me in the matter of mitzvah (sacred action).
Do not accustom me to an errant way, nor bring me into the hands of sin, nor into the hands of trials, nor the hands of degradation.
Let the good inclination rule within me, and let the evil inclination not have power within me.
Release me from the evil inclination and from bad diseases, and let not bad dreams or dark perseverations disturb or confound me.
May my bed be complete before you [ie with only appropriate expressions of sexuality].
And enlighten my eyes lest I sleep the sleep of death.
Blessed [are you, !!!!] who enlightens the entire universe with Divine glory.
Thus one important goal of this liturgy is to prepare ourselves for the ultimate through confession and forgiveness (and of course through saying the Shema itself, the classic Jewish famous last words).
Most versions of the Bedtime Shema Liturgy contain something like the following prayer. Interestingly, the emphasis is less on confessing what we have done and seeking forgiveness from God, and more on offering forgiveness and release to those we feel have wronged us.
Is there anything you find surprising about this prayer? Anything inspiring? Anything you would change?
In addition to saying the above text, many also undertake a personal accounting of the day, adding specific detail to what they would like to forgive and be forgiven for.
How do you go about doing this sort of accounting?
What might you personally try to include in your nightly practice before sleep?
רִבּוֹנוֹ שֶׁל עוֹלָם:
הֲרֵינִי מוֹחֵל וְסוֹלֵחַ לְכָל מִי שֶׁהִכְעִיס וְהִקְנִיט אוֹתִי, אוֹ שֶׁחָטָא כְּנֶגְדִּי בֵּין בְּגוּפִי, בֵּין בְּמָמוֹנִי, בֵּין בִּכְבוֹדִי, בֵּין בְּכָל אֲשֶׁר לִי, בֵּין בְּאֹנֶס בֵּין בְּרָצוֹן, בֵּין בְּשׁוֹגֵג בֵּין בְּמֵזִיד, בֵּין בְּדִבּוּר בֵּין בְּמַעֲשֶׂה,
בֵּין בְּגִלְגּוּל זֶה בֵּין בְּגִלְגּוּל אַחֵר,
לְכָל בֶּן אָדָם, וְלֹא יֵעָנֵשׁ שׁוּם אָדָם בְּסִיבָּתִי:
יְהִי רָצוֹן מִלְפָנֶיךָ ה' אֱלֹקַי וְאֱלֹקֵי אֲבוֹתַי שֶׁלֹא אֶחֱטָא עוֹד וְלֹא אֶחֱזֹר בָּהֶם,
וְלֹא אָשׁוּב עוֹד לְהַכְעִיסֶךָ וְלֹא אֶעֱשֶׂה הָרַע בְּעֵינֶיךָ, וּמָה שֶּׁחָטָאתִי לְפָנֶיךָ מְחֹק בְּרַחֲמֶיךָ הָרַבִּים, אֲבָל לֹא עַל יְדֵי יִסוּרִים וְחֳלָיִם רָעִים:
יִהְיוּ לְרָצוֹן אִמְרֵי פִי וְהֶגְיוֹן לִבִּי לְפָנֶיךָ, ה' צוּרִי וְגֹאֲלִי:
Master of the Universe:
Behold I forgive and pardon anyone who has angered me or antagonized me, or who has sinned against me, whether in relation to my body, or my money, or my honor, or anything that pertains to me;
whether done compulsively or willingly; whether accidentally or deliberately; whether through words or through actions; whether in this present incarnation, or in another incarnation - any human being [in some versions: any Jew]. And may no person be punished because of me.
May it be your will, my God, and God of my ancestors, that I not sin again, and that I not be remembered by these sins.
May I never again return to behavior that angers you, nor do what you perceive to be wrong.
And any ways I have sinned before you, with your abundant mercies please erase -- though not by means of suffering or terrible illnesses.
May the expressions of my mouth and the thoughts of my heart find favor before you, God, my rock and my redeemer.
Many versions of this liturgy consider the above prayer, and perhaps some personal reflection and "soul accounting" [cheshbon nefesh] sufficient.
However, there are those that recommend making a full vidui confession as one might on one's deathbed, or indeed reciting portions of the liturgy familiar to most of us only from Yom Kippur.
(כו) יעמוד ויאמר וידוי, וישחה ראשו, ויכה באגרופו על לבו בכל תיבה של הוִדוי, ואין לאומרו בליל שבת ובשאר ימים שאין אומרים בהם תחנון. וכן אין לאומרו במוצ"ש עד חצות הלילה, וכן במוצאי יו"ט ור"ח, וכיוצא בזה.

(כז) אָנָּא ה' אֱלֹקֵינוּ וֵאלֹקֵי אֲבוֹתֵינוּ. תָּבֹא לְפָנֶיךָ תְּפִלָּתֵנוּ. וְאַל תִּתְעַלַּם מַלְכֵּנוּ מִתְּחִנָּתֵנוּ. שֶׁאֵין אֲנַחְנוּ עַזֵּי פָנִים וּקְשֵׁי עֹרֶף לוֹמַר לְפָנֶיךָ ה' אֱלֹקֵינוּ וֵאלֹקֵי אֲבוֹתֵינוּ צַדִּיקִים אֲנַחְנוּ וְלֹא חָטָאנוּ. אֲבָל חָטָאנוּ. עָוִינוּ. פָּשַׁעְנוּ. אֲנַחְנוּ וַאֲבוֹתֵינוּ וְאַנְשֵׁי בֵיתֵנוּ:
אָשַׁמְנוּ. בָּגַדְנוּ. גָּזַלְנוּ. דִּבַּרְנוּ דֹפִי וְלָשׁון הָרָע. הֶעֱוִינוּ. וְהִרְשַׁעְנוּ. זַדְנוּ. חָמַסְנוּ. טָפַלְנוּ שֶׁקֶר וּמִרְמָה. יָעַצְנוּ עֵצוֹת רָעוֹת. כִּזַּבְנוּ. כָּעַסְנוּ. לַצְנוּ. מָרַדְנוּ. מָרִינוּ דְבָרֶיךָ. נִאַצְנוּ. נִאַפְנוּ. סָרַרְנוּ. עָוִינוּ. פָּשַׁעְנוּ. פָּגַמְנוּ. צָרַרְנוּ. צִעַרְנוּ אָב וָאֵם. קִשִּׁינוּ עֹרֶף. רָשַׁעְנוּ. שִׁחַתְנוּ. תִּעַבְנוּ. תָּעִינוּ וְתִעֲתַעְנוּ.
וְסַרְנוּ מִמִּצְוֹתֶיךָ וּמִמִּשְׁפָּטֶיךָ הַטּוֹבִים וְלֹא שָׁוָה לָנוּ. וְאַתָּה צַדִּיק עַל כָּל הַבָּא עָלֵינוּ. כִּי אֱמֶת עָשִׂיתָ. ואֲנַחְנוּ הִרְשָׁעְנוּ:
Stand to say the vidui, with your head bowed, beating your breast with your fist at each word. Don't say on Shabbat or Yom Tov (or other days Tachanun is omitted), or on motzei Shabbat or Yom Tov, if before midnight (midpoint between dusk-dawn).
Please !!!!, our God and God of our ancestors: may our prayer come before you. And do not hide yourself, sovereign, from our entreaty. For we are not so arrogant and brazen as to say before you, O Lord, our God and God of our ancestors, that we are fully righteous and have not sinned. Rather, we have sinned. We have erred. We have polluted. We and our ancestors, and the members of our households:
Ashamnu– we have trespassed; Bagadnu– we have dealt treacherously; Gazalnu– we have robbed; Dibarnu dofi– we have spoken slander; He'evinu–we have acted perversely; V'hirshanu– we have done wrong; Zadnu– we have acted presumptuously; Hamasnu– we have done violence; Tafalnu sheker– we have practiced deceit; Yaatsnu ra– we have counseled evil; Kizavnu– we have spoken falsehood; Latsnu– we have scoffed; Maradnu– we have revolted; Niatsnu– we have blasphemed; Sararnu– we have rebelled; Avinu– we have committed iniquity; Pashanu– we have transgressed; Tsararnu– we have oppressed; Kishinu oref– we have been stiff necked; Rashanu– we have acted wickedly; Shichatnu– we have dealt corruptly; Tiavnu– we have committed abomination; Tainu– we have gone astray; Titanu– we have led others astray.
And we have turned aside from your mitzvot and your good laws, and it has not been appropriate for us. But you are righteous with everything that comes to you, for you act with truth, whereas we mess things up.
Of course, as Renewal-y Jews, we might find it a good complement to also celebrate our right-doing. Here's a little something I wrote prior to Yom Kippur 5781: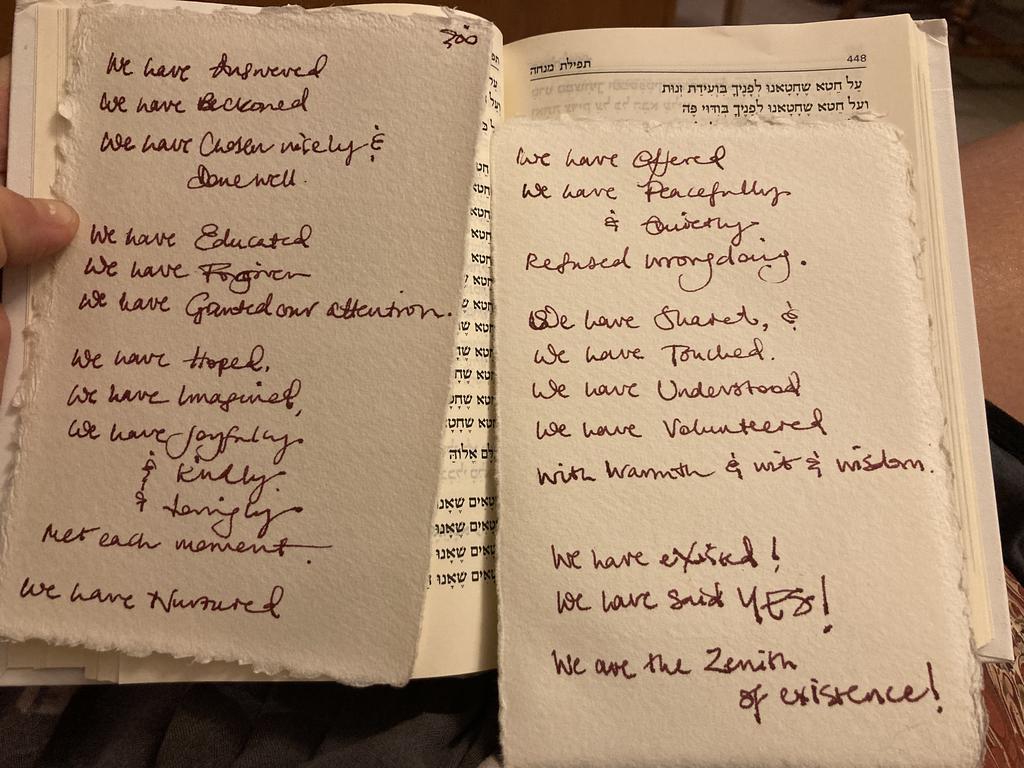 From https://www.myjewishlearning.com/article/viddui-the-deathbed-confession/

In the words of the Shulchan Arukh, an authoritative code of Jewish law written in the 1600s:
"If you feel death approaching, recite the Viddui.
Be reassured by those around you.
Many have said the Viddui and not died, and many have not said the Viddui and have died.
If you are unable to recite it aloud, say it in your heart. And if you are unable to recite it, others may recite it with you or for you."
The prayer is recited when death seems imminent; it may be said by the [dying person], by family members, or by a rabbi.

It can be read in Hebrew or English or in both languages.
A formal Viddui can be read in sections, with pauses to let people speak from their hearts, to voice regrets or guilt, to ask forgiveness of one another, and to say "I love you."
The Viddui can also be seen as a model for a less formal farewell.
People at the bedside can sing a wordless melody – a niggun – say a few personal words of goodbye, and recite the Shema together: this, too, is a [kind of] Viddui.
...
The central element of the Viddui is the Shema, the most familiar of all Jewish prayers and the quintessential statement of faith in God's unity.
The Shema is the last thing a Jew is supposed to say before death–which is also why it is recited before going to sleep at night (in case "I should die before I wake"). The Shema is not a petitionary prayer, nor does it praise God. It is a not really a prayer at all, but the proclamation of God's oneness. It is also an affirmation of Jewish identity and connection.
A vast number of sources, articles and variations of the deathbed confession can be found here:
https://sites.google.com/site/viduivariations/
One example of a classic deathbed vidui from a traditional siddur is here: