(טו) כְּדָת֙ מַֽה־לַּעֲשׂ֔וֹת בַּמַּלְכָּ֖ה וַשְׁתִּ֑י עַ֣ל ׀ אֲשֶׁ֣ר לֹֽא־עָשְׂתָ֗ה אֶֽת־מַאֲמַר֙ הַמֶּ֣לֶךְ אֲחַשְׁוֵר֔וֹשׁ בְּיַ֖ד הַסָּרִיסִֽים׃ (ס)
(טז) וַיֹּ֣אמֶר מומכן [מְמוּכָ֗ן] לִפְנֵ֤י הַמֶּ֙לֶךְ֙ וְהַשָּׂרִ֔ים לֹ֤א עַל־הַמֶּ֙לֶךְ֙ לְבַדּ֔וֹ עָוְתָ֖ה וַשְׁתִּ֣י הַמַּלְכָּ֑ה כִּ֤י עַל־כָּל־הַשָּׂרִים֙ וְעַל־כָּל־הָ֣עַמִּ֔ים אֲשֶׁ֕ר בְּכָל־מְדִינ֖וֹת הַמֶּ֥לֶךְ אֲחַשְׁוֵרֽוֹשׁ׃
(יז) כִּֽי־יֵצֵ֤א דְבַר־הַמַּלְכָּה֙ עַל־כָּל־הַנָּשִׁ֔ים לְהַבְז֥וֹת בַּעְלֵיהֶ֖ן בְּעֵינֵיהֶ֑ן בְּאָמְרָ֗ם הַמֶּ֣לֶךְ אֲחַשְׁוֵר֡וֹשׁ אָמַ֞ר לְהָבִ֨יא אֶת־וַשְׁתִּ֧י הַמַּלְכָּ֛ה לְפָנָ֖יו וְלֹא־בָֽאָה׃
(יח) וְֽהַיּ֨וֹם הַזֶּ֜ה תֹּאמַ֣רְנָה ׀ שָׂר֣וֹת פָּֽרַס־וּמָדַ֗י אֲשֶׁ֤ר שָֽׁמְעוּ֙ אֶת־דְּבַ֣ר הַמַּלְכָּ֔ה לְכֹ֖ל שָׂרֵ֣י הַמֶּ֑לֶךְ וּכְדַ֖י בִּזָּי֥וֹן וָקָֽצֶף׃
(יט) אִם־עַל־הַמֶּ֣לֶךְ ט֗וֹב יֵצֵ֤א דְבַר־מַלְכוּת֙ מִלְּפָנָ֔יו וְיִכָּתֵ֛ב בְּדָתֵ֥י פָֽרַס־וּמָדַ֖י וְלֹ֣א יַעֲב֑וֹר אֲשֶׁ֨ר לֹֽא־תָב֜וֹא וַשְׁתִּ֗י לִפְנֵי֙ הַמֶּ֣לֶךְ אֲחַשְׁוֵר֔וֹשׁ וּמַלְכוּתָהּ֙ יִתֵּ֣ן הַמֶּ֔לֶךְ לִרְעוּתָ֖הּ הַטּוֹבָ֥ה מִמֶּֽנָּה׃
(כ) וְנִשְׁמַע֩ פִּתְגָ֨ם הַמֶּ֤לֶךְ אֲשֶֽׁר־יַעֲשֶׂה֙ בְּכָל־מַלְכוּת֔וֹ כִּ֥י רַבָּ֖ה הִ֑יא וְכָל־הַנָּשִׁ֗ים יִתְּנ֤וּ יְקָר֙ לְבַעְלֵיהֶ֔ן לְמִגָּד֖וֹל וְעַד־קָטָֽן׃
(15) "What," [he asked,] "shall be done, according to law, to Queen Vashti for failing to obey the command of King Ahasuerus conveyed by the eunuchs?"
(16) Thereupon Memucan declared in the presence of the king and the ministers: "Queen Vashti has committed an offense not only against Your Majesty but also against all the officials and against all the peoples in all the provinces of King Ahasuerus.
(17) For the queen's behavior will make all wives despise their husbands, as they reflect that King Ahasuerus himself ordered Queen Vashti to be brought before him, but she would not come.
(18) This very day the ladies of Persia and Media, who have heard of the queen's behavior, will cite it to all Your Majesty's officials, and there will be no end of scorn and provocation!
(19) "If it please Your Majesty, let a royal edict be issued by you, and let it be written into the laws of Persia and Media, so that it cannot be abrogated, that Vashti shall never enter the presence of King Ahasuerus. And let Your Majesty bestow her royal state upon another who is more worthy than she.
(20) Then will the judgment executed by Your Majesty resound throughout your realm, vast though it is; and all wives will treat their husbands with respect, high and low alike."
(טו) וַֽיְהִי־ה֗וּא טֶרֶם֮ כִּלָּ֣ה לְדַבֵּר֒ וְהִנֵּ֧ה רִבְקָ֣ה יֹצֵ֗את אֲשֶׁ֤ר יֻלְּדָה֙ לִבְתוּאֵ֣ל בֶּן־מִלְכָּ֔ה אֵ֥שֶׁת נָח֖וֹר אֲחִ֣י אַבְרָהָ֑ם וְכַדָּ֖הּ עַל־שִׁכְמָֽהּ׃
(טז) וְהַֽנַּעֲרָ֗ טֹבַ֤ת מַרְאֶה֙ מְאֹ֔ד בְּתוּלָ֕ה וְאִ֖ישׁ לֹ֣א יְדָעָ֑הּ וַתֵּ֣רֶד הָעַ֔יְנָה וַתְּמַלֵּ֥א כַדָּ֖הּ וַתָּֽעַל׃
(יז) וַיָּ֥רָץ הָעֶ֖בֶד לִקְרָאתָ֑הּ וַיֹּ֕אמֶר הַגְמִיאִ֥ינִי נָ֛א מְעַט־מַ֖יִם מִכַּדֵּֽךְ׃
(יח) וַתֹּ֖אמֶר שְׁתֵ֣ה אֲדֹנִ֑י וַתְּמַהֵ֗ר וַתֹּ֧רֶד כַּדָּ֛הּ עַל־יָדָ֖הּ וַתַּשְׁקֵֽהוּ׃
(יט) וַתְּכַ֖ל לְהַשְׁקֹת֑וֹ וַתֹּ֗אמֶר גַּ֤ם לִגְמַלֶּ֙יךָ֙ אֶשְׁאָ֔ב עַ֥ד אִם־כִּלּ֖וּ לִשְׁתֹּֽת׃
(כ) וַתְּמַהֵ֗ר וַתְּעַ֤ר כַּדָּהּ֙ אֶל־הַשֹּׁ֔קֶת וַתָּ֥רָץ ע֛וֹד אֶֽל־הַבְּאֵ֖ר לִשְׁאֹ֑ב וַתִּשְׁאַ֖ב לְכָל־גְּמַלָּֽיו׃
(כא) וְהָאִ֥ישׁ מִשְׁתָּאֵ֖ה לָ֑הּ מַחֲרִ֕ישׁ לָדַ֗עַת הַֽהִצְלִ֧יחַ יְהוָ֛ה דַּרְכּ֖וֹ אִם־לֹֽא׃
(15) He had scarcely finished speaking, when Rebekah, who was born to Bethuel, the son of Milcah the wife of Abraham's brother Nahor, came out with her jar on her shoulder.
(16) The maiden was very beautiful, a virgin whom no man had known. She went down to the spring, filled her jar, and came up.
(17) The servant ran toward her and said, "Please, let me sip a little water from your jar."
(18) "Drink, my lord," she said, and she quickly lowered her jar upon her hand and let him drink.
(19) When she had let him drink his fill, she said, "I will also draw for your camels, until they finish drinking."
(20) Quickly emptying her jar into the trough, she ran back to the well to draw, and she drew for all his camels.
(21) The man, meanwhile, stood gazing at her, silently wondering whether the LORD had made his errand successful or not.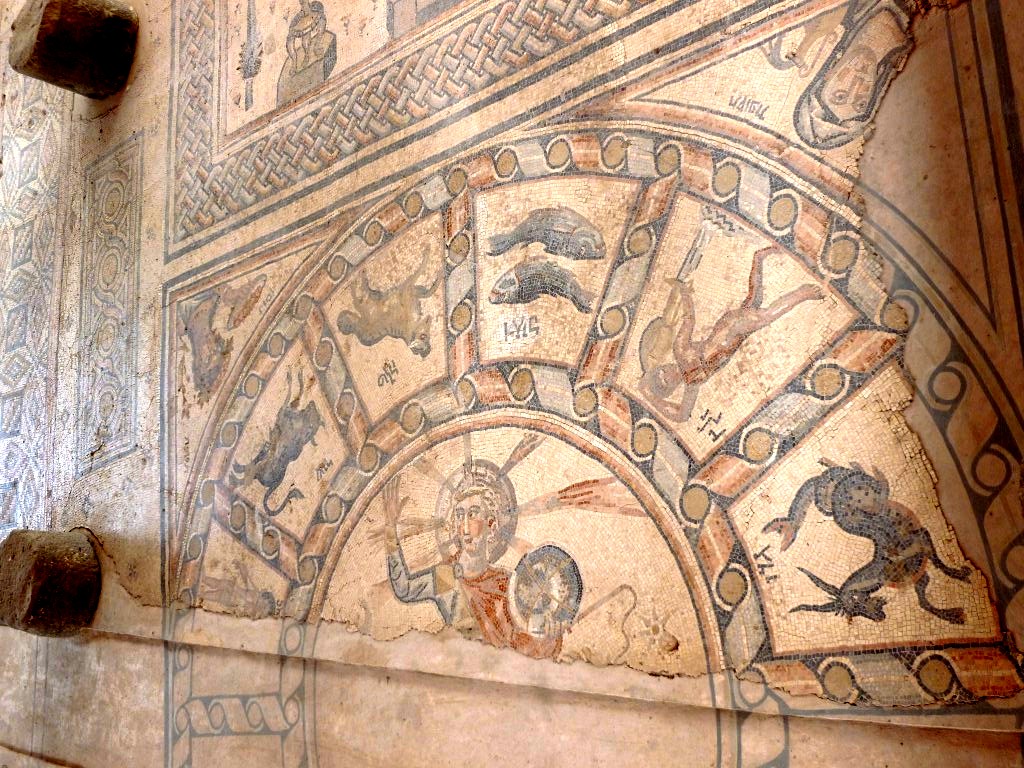 Beit Alpha Synagogue mosaic floor -
http://vridar.org/wp-content/uploads/2016/03/Mosaic_Floor_in_Synagogue_at_Hammat_Tiberias_02.jpg