(א) וַיֹּ֤אמֶר יְהֹוָה֙ אֶל־אַבְרָ֔ם לֶךְ־לְךָ֛ מֵאַרְצְךָ֥ וּמִמּֽוֹלַדְתְּךָ֖ וּמִבֵּ֣ית אָבִ֑יךָ אֶל־הָאָ֖רֶץ אֲשֶׁ֥ר אַרְאֶֽךָּ׃
(1) The LORD said to Abram, "Go forth from your native land and from your father's house to the land that I will show you.
(ז) וַיֵּרָ֤א יְהֹוָה֙ אֶל־אַבְרָ֔ם וַיֹּ֕אמֶר לְזַ֨רְעֲךָ֔ אֶתֵּ֖ן אֶת־הָאָ֣רֶץ הַזֹּ֑את וַיִּ֤בֶן שָׁם֙ מִזְבֵּ֔חַ לַיהֹוָ֖ה הַנִּרְאֶ֥ה אֵלָֽיו׃
(7) The LORD appeared to Abram and said, "I will assign this land to your offspring." And he built an altar there to the LORD who had appeared to him.
Avraham Avinu's Offspring: The Exclusion of Ishmael
As seen above, Eretz Israel, i.e. the Promised Land, is promised to Avraham and his offspring. Here we examine why this does not include Ishmael (who is limited to having a homeland only outside of Eretz Israel, in Arabia).
(ב) וְאֶֽעֶשְׂךָ֙ לְג֣וֹי גָּד֔וֹל וַאֲבָ֣רֶכְךָ֔ וַאֲגַדְּלָ֖ה שְׁמֶ֑ךָ וֶהְיֵ֖ה בְּרָכָֽה׃
(2) I will make of you a great nation,
And I will bless you;
I will make your name great,
And you shall be a blessing.
(א) ואעשך לגוי גדול, אע"פ שאשתך עקרה אני ארפאנה, ובזאת הארץ תלד.
(ב) ואברכך, אוסיף טובתך בעושר ובנכסים ובכבוד, כמו שאמר ואברם כבד מאד במקנה בכסף ובזהב (י"ג ב').
(ג) ואגדלה שמך, שיהיה שמך נודע בגוים לרוב ברכתך וליושר מעשיך והצלחתך, כמו שקרה לו בדבר ארבעה המלכים שעשה לו שם גדול אז, כי במעט אנשים נצח ארבעה מלכים, ובני חת אמרו לו, נשיא אלהים אתה בתוכנו, וכן אמר לדוד "ועשיתי לך שם כשם הגדולים אשר בארץ" (ד"ה א' י"ז) וזהו מטובת האל לאדם.
(ד) והיה ברכה, כמו ותהיה, צווי במקום תי"ו איתן, וכן "עלה ומות בהר" (דברים ל"ב) "ואם בין כוכבים שים קנך" (עובדיה א') והדומים להם. אמר לו כל כך תהיה ברכתך והצלחתך גדולה עד שתהיה ברכה לאחרים, כי כשיברך אדם בנו יאמר לו, האל יברכך כברכת אברהם:
(1) ואעשך לגוי גדול, even though your wife is barren, I will cure her and in this country she will bear a child.
(2) ואברך, I will give you additional goodness, such as material wealth, possessions and honour, as we read in 13,2 "Avram was very rich in cattle, silver, and gold."
(3) ואגדלה שמך, your name will be known throughout many nations due to how blessed you are, due to your good deeds, and the success of your undertakings. Examples were Avram's defeat of the four most powerful kings on earth at that time, when he freed Lot and the King of Sodom. The Canaanites (בני חת) said to him when he wanted to buy a burial plot for Sarah "you are a prince in our midst" (Genesis 23,6). We find a similar statement which G'd made to David in Chronicles I 17,8 ועשיתי לך שם בשם הגדולים אשר בארץ, "I will make you as renowned as the greatest men on earth." This is part of the good that G'd does for people.
(4) והיה ברכה, the construction והיה is similar to the future tense (not imperative) תהיה, i.e. "you will become." [the author, presumably, finds it difficult for man to be commanded to be a source of blessing. How does one go about carrying out such a directive? Ed.] We encounter a similar construction as an imperative when G'd orders Moses to ascend the mountain and to die there on the mountain, עלה ומות בהר, seeing that "dying" is understood to be something passive, not active. Hence he would translate that verse also as "ascend the mountain where you will die." (Deuteronomy, 32,48-50) Similar constructions which describe something impossible are found in Ovadiah 1,4 ואם בין כוכבים שים קנך, where one cannot order someone to make his nest among the stars. These formulations are substitutes for regular future tenses. G'd is telling Avram that his blessings and his fame will be so great that they will spill over to benefit those around him. This promise has become fulfilled to such an extent that when people bless their children they wish them: "may the Lord bless you with the blessing of Avraham"
The reason that Ishmael is excluded from this specific promise has to do with his character defect, which reveals itself in the episode in which antisemitism came into the world, when 18-year-old Ishmael bullies his 3-year-old brother Yitzchak, warranting the eviction of Ishmael and Hagar from Eretz-Israel (and occasioning their exile to Mecca).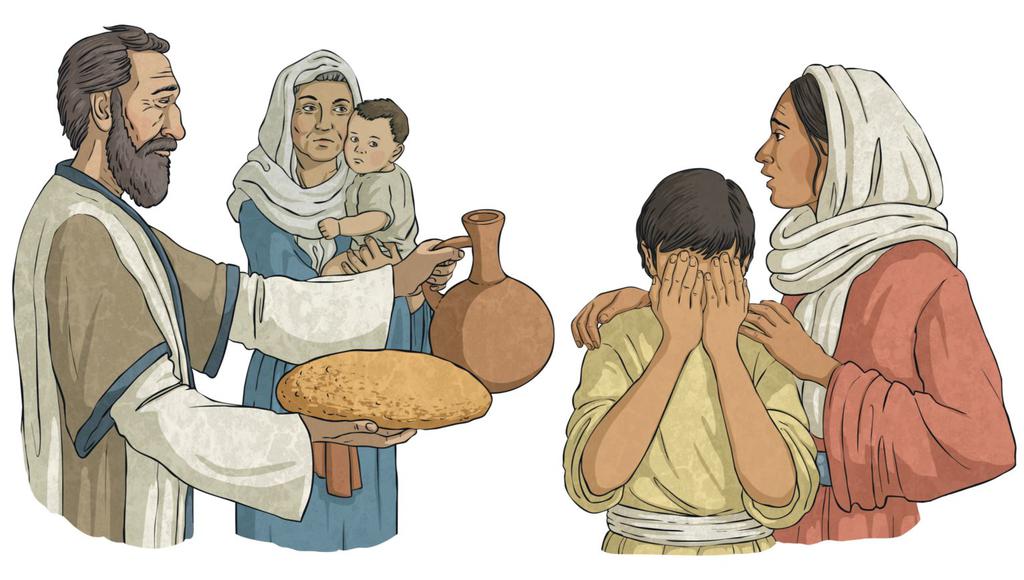 (ט) וַתֵּ֨רֶא שָׂרָ֜ה אֶֽת־בֶּן־הָגָ֧ר הַמִּצְרִ֛ית אֲשֶׁר־יָלְדָ֥ה לְאַבְרָהָ֖ם מְצַחֵֽק׃ (י) וַתֹּ֙אמֶר֙ לְאַבְרָהָ֔ם גָּרֵ֛שׁ הָאָמָ֥ה הַזֹּ֖את וְאֶת־בְּנָ֑הּ כִּ֣י לֹ֤א יִירַשׁ֙ בֶּן־הָאָמָ֣ה הַזֹּ֔את עִם־בְּנִ֖י עִם־יִצְחָֽק׃ (יא) וַיֵּ֧רַע הַדָּבָ֛ר מְאֹ֖ד בְּעֵינֵ֣י אַבְרָהָ֑ם עַ֖ל אוֹדֹ֥ת בְּנֽוֹ׃ (יב) וַיֹּ֨אמֶר אֱלֹהִ֜ים אֶל־אַבְרָהָ֗ם אַל־יֵרַ֤ע בְּעֵינֶ֙יךָ֙ עַל־הַנַּ֣עַר וְעַל־אֲמָתֶ֔ךָ כֹּל֩ אֲשֶׁ֨ר תֹּאמַ֥ר אֵלֶ֛יךָ שָׂרָ֖ה שְׁמַ֣ע בְּקֹלָ֑הּ כִּ֣י בְיִצְחָ֔ק יִקָּרֵ֥א לְךָ֖ זָֽרַע׃
(9) Sarah saw the son whom Hagar the Egyptian had borne to Abraham playing. (10) She said to Abraham, "Cast out that slave-woman and her son, for the son of that slave shall not share in the inheritance with my son Isaac." (11) The matter distressed Abraham greatly, for it concerned a son of his. (12) But God said to Abraham, "Do not be distressed over the boy or your slave; whatever Sarah tells you, do as she says, for it is through Isaac that offspring shall be continued for you.
"Playing" in verse 9 seems to be a rather downplayed choice of translation for the verb in question. Radak infers a more negative connotation, and Rashi, with support from the Midrash Rabbah, suggests that its meaning is likely far darker than that, i.e. an action with murderous intent.
(א) מצחק, כאילו מלעיג על יצחק שנולד מהזקנים:
(1) ותרא...מצחק. Ishmael was belittling Yitzchok for having a father who was so much older than he.
(א) מצחק.... דָּ"אַ לְשׁוֹן רְצִיחָה, כְּמוֹ יָקוּמוּ נָא הַנְּעָרִים וִישַׂחֲקוּ לְפָנֵינוּ וְגוֹ' (שמואל ב ב'), שֶׁהָיָה מֵרִיב עִם יִצְחָק עַל הַיְרֻשָּׁה וְאוֹמֵר אֲנִי בְּכוֹר וְנוֹטֵל פִּי שְׁנַיִם, וְיוֹצְאִים בַּשָּׂדֶה וְנוֹטֵל קַשְׁתּוֹ וְיוֹרֶה בוֹ חִצִּים, כְּמָה דְּתֵימָא כְּמִתְלַהְלֵהַּ הַיֹּרֶה זִקִּים וְגוֹ' וְאָמַר הֲלֹא מְשַׂחֵק אָנִי (משלי כ"ו):
(1) מצחק... Another explanation is that it refers to [attempted] murder, as (2 Samuel 2:14) "Let the young men, I pray thee, arise and make sport (וישחקו) before us" (where they fought with and killed one another) From Sarah's reply — "for the son of this bondwoman shall not be heir with my son״ — you may infer that he (Ishmael) was quarrelling with Isaac about the inheritance, saying, "I am the first-born and will, therefore, take a double portion". They went into the field and he (Ishmael) took his bow and shot arrows at him (Isaac), just as you say (Proverbs 26:18-19) "As a madman who casteth firebrands, [arrows and death] and says: I am only מצחק mocking" (Genesis Rabbah 53:11).
That Ishmael's punishment is merely the perpetual banishment from inhabiting Eretz-Yisrael, i.e. the land promised to Avraham, Yitzchak, and (later) Ya'aqov, is a fairly mild "curse" for what he attempted to do to his defenseless toddler brother.
(ג) וַאֲבָֽרְכָה֙ מְבָ֣רְכֶ֔יךָ וּמְקַלֶּלְךָ֖ אָאֹ֑ר וְנִבְרְכ֣וּ בְךָ֔ כֹּ֖ל מִשְׁפְּחֹ֥ת הָאֲדָמָֽה׃
(3) I will bless those who bless you
And curse him that curses you;
And all the families of the earth
Shall bless themselves by you."
(א) מברכיך ברוך וארריך ארור שוטה הוא הבא לקללך שהרי הוא מקלל עצמו שנאמר ואברכה מברכך ומקללך אאור, וכתיב אורריך ארור ומברכך ברוך.
(1) מברכיך ברוך ואורריך ארור, "those who bless you will be blessed and those who curse you will be cursed." Bileam ridicules people who wish to curse the Jewish people, as in so doing they only bring a curse upon themselves. The Torah had made this point already in Genesis 12,3, when G-d said so to Avraham when he set out to migrate to the land of Canaan. In addition, Yitzchok had passed on this blessing to his son Yaakov, when he said to him in Genesis 27,29: "those who curse you will themselves be cursed, whereas those who bless you will be blessed."
The English translation does not adequately convey what is really being said in the Hebrew of the curse statement. The words in orange above are both typically translated "curse" but are obviously from two unrelated roots. The first in Hebrew sequence is qalal (קלל) - "to esteem lightly, trifle with" but the second is arar (ארר) - a more intense version of "curse," i.e. "to damn."1 Note also the verb parsing for the verse forms in the first stich (the kadmah-segholta clause) of the passage:
וַאֲבָֽרְכָה֙ - vav prefix + piel cohortative

מְבָ֣רְכֶ֔יךָ - mp piel participle

וּמְקַלֶּלְךָ֖ - vav prefix + ms piel participle

3ms

+ 2ms pron. suff.

אָאֹ֑ר

-

qal cohortative or

1cs

qal impf.

(both forms are identical)
If the latter form is cohortative (1st person command form, i.e. a command one gives to oneself), as the parallel form of barakh (וַאֲבָֽרְכָה֙) is in the first stich of the verse, then the wording should be understood as Hashem obligating Himself to curse whomever would esteem lightly, i.e. make light of the reputation of Abraham or the nation which would emerge from him (Israel, as established in verse 2). Accordingly, the present author would render the line:
"... one who esteems you lightly, I will (obligate Myself to) curse/damn."
... similar to the sense in which Scharbert renders it:
"I shall treat with favor those who so treat you,
but those who abuse you will I ban utterly."2
This more properly respects the meaning of the Hebrew, i.e. that one who engages in even the mildest form of disparaging Abraham/Israel will meet with the harshest Divine response.
Note that this phrasing differentiates it from the other two similar passages using such a blessing and curse formula, wherein both instances of "curse" are from the same root, i.e. the stronger word ארר.
(כט) יַֽעַבְד֣וּךָ עַמִּ֗ים (וישתחו) [וְיִֽשְׁתַּחֲו֤וּ] לְךָ֙ לְאֻמִּ֔ים הֱוֵ֤ה גְבִיר֙ לְאַחֶ֔יךָ וְיִשְׁתַּחֲו֥וּ לְךָ֖ בְּנֵ֣י אִמֶּ֑ךָ אֹרְרֶ֣יךָ אָר֔וּר וּֽמְבָרְכֶ֖יךָ בָּרֽוּךְ׃
(29) Let peoples serve you,
And nations bow to you;
Be master over your brothers,
And let your mother's sons bow to you.
Cursed be they who curse you,
Blessed they who bless you."
(ט) כָּרַ֨ע שָׁכַ֧ב כַּאֲרִ֛י וּכְלָבִ֖יא מִ֣י יְקִימֶ֑נּוּ מְבָרְכֶ֣יךָ בָר֔וּךְ וְאֹרְרֶ֖יךָ אָרֽוּר׃
(9) They crouch, they lie down like a lion,
Like the king of beasts; who dare rouse them?
Blessed are they who bless you,
Accursed they who curse you!
Rashi and the Baal haTurim comment only on the blessing aspect, detailing how it is that "all the families of the earth" come to be blessed through Avraham.
(א) ואברכה מברכיך. לומר שמבורכיו יהיו רבים ומקולליו אפי' יהיה אחד אני אאור אותו. וי"א רמז לו שעתידין לצאת ממנו כהנים שיברכו את ישראל ואני אברכם: (ב) ונברכו בך כל משפחות האדמה. שכל המשפחות יתברכו בו לא זרעו בלבד. וי"מ ונברכו לשון המבריך הגפן שמכל משפחות האדמה נדבקו בו שנשא שרה שבאה משם והגר שבאה מחם וקטורה שבאה מבני יפת:
(1) ואברכה מברכיך, "I will bless those who will bless you." The plural ending in the word מברכיך is a hint that there will be more people blessing you than people cursing you. Some commentators say that the verse is a prophecy concerning the priests who will be descended from Avraham and whose task it will be to bless the people.
(2) ונברכו בך כל משפחות האדמה, "and all the families on earth will be blessed through you." Not only Avraham's direct descendants will be blessed through him, but far wider circles, all the families on earth. Some commentators derive the expression from the causative form of the root ברך, meaning to refine through genetic improvement, מבריך. The term is applied especially to improving the qualities of certain grapes and the wine they produce. In our case it would mean that all the families of the earth would be improved through intermarriage with descendants of Avraham. Avraham having married Hagar, of Egyptian descent and siring a son from her would be a case in point. Later on, he married Keturah who was of the descendants of Yaphet and sired 6 sons from her.
(א) ונברכו בך. יֵשׁ אַגָּדוֹת רַבּוֹת, וְזֶהוּ פְשׁוּטוֹ, אָדָם אוֹמֵר לִבְנוֹ תְּהֵא כְּאַבְרָהָם, וְכֵן כָּל וְנִבְרְכוּ בְךָ שֶׁבַּמִּקְרָא, וְזֶה מוֹכִיחַ בְּךָ יְבָרֵךְ יִשְׂרָאֵל לֵאמֹר יְשִׂמְךָ אֱלֹהִים כְּאֶפְרַיִם וְכִמְנַשֶּׁה (בר' מ"ח):
(1) ונברכו בך AND IN THEE SHALL BE BLESSED — There are many Agadoth concerning this but the plain sense of the text is as follows: A man says to his son, "Mayest thou become as Abraham". This, too, is the meaning wherever the phrase ונברכו בך "And in thee shall be blessed" occurs in Scripture, and the following example proves this: (Genesis 48:20) בך יברך "By thee shall Israel bless their children saying, "May God make thee as Ephraim and Manasseh".
The Souls Abraham and Sarah Made
(ה) וַיִּקַּ֣ח אַבְרָם֩ אֶת־שָׂרַ֨י אִשְׁתּ֜וֹ וְאֶת־ל֣וֹט בֶּן־אָחִ֗יו וְאֶת־כׇּל־רְכוּשָׁם֙ אֲשֶׁ֣ר רָכָ֔שׁוּ וְאֶת־הַנֶּ֖פֶשׁ אֲשֶׁר־עָשׂ֣וּ בְחָרָ֑ן וַיֵּצְא֗וּ לָלֶ֙כֶת֙ אַ֣רְצָה כְּנַ֔עַן וַיָּבֹ֖אוּ אַ֥רְצָה כְּנָֽעַן׃
(5) Abram took his wife Sarai and his brother's son Lot, and all the wealth that they had amassed, and the souls they had made in Haran; and they set out for the land of Canaan. When they arrived in the land of Canaan,
(ג) ואת הנפש אשר עשו בחרן, העבדים והשפחות שקנו בחרן, ויהיה עשו כמו "עשה לי את התיל הזה" (דברים ח') ודעת אונקלוס על אותם האנשים שהחזירו לאמונה טובה היא אמונת אברהם אבינו, כי לוט היה מאמונתו לפיכך נתחבר עמו, והוא גם כן היה קורא לאנשים ומראה להם טעמים שיאמינו בה' ויעבדו אותו לבדו ולא הגלולים לפיכך אמר אשר עשו ולא אשר עשה. ורז"ל (ב"ר ל"ט) דרשו אשר עשו על אברהם ושרי, הוא מגייר את האנשים והיא הנשים, אשר עשו, כמו "אשר עשה את משה ואת אהרן" (שמואל א' י"ב ו') שגדלם ולמדם.
(3) ואת הנפש אשר עשו בחרן, the male and female servants they had acquired in Charan. The word עשו must be understood as similar to Deuteronomy 8,17 עשה לי את כל החיל הזה, "has gotten me this wealth." According to Onkelos, the word עשו refers to the people whom Avram and Lot had succeeded in bringing back to monotheism, i.e. the same religion as that professed by Avram. Lot too, professed the belief in the one and only invisible G'd, the Creator of the universe Lot did not merely join Avram because he was his uncle and much younger than his grandfather, but he shared his religious beliefs and was active as an evangelist for that faith himself. This is the reason why the Torah wrote the word עשו in the plural mode instead of the singular. According to our sages (Bereshit Rabbah 39,14) the plural mode of the word עשו is meant to prove that both Avram and Sarai, each were active in converting their respective friends to monotheism. The use of the root עשה to describe such "brainwashing," is also found in Samuel I 12,6 אשר עשה משה את משה ואת אהרן, where it refers to G'd having been the mentor of both Moses and Aaron.
Zekharya haRofe, Midrash HaChefetz 35b (15th century)3
And all the souls that they made at Charan [Gen. 12.5]... When our father Abraham (may his memory be blessed) engraved upon their souls the existence and unity of G'd, it was as if he created them; that is, as far as the existence of their forms is concerned. Don't you see that the child is called a son, and the student [also] is called a son, as it says, the sons of the prophets went forth [II Kings 2.3]. Indeed, all humankind has two aspects: matter and its form. Matter is the product of the father, and the noble form is the product of the teacher. As they said, "Whoever teaches Torah to someone is considered to have created him."
Rabbi Alexandroni said, "Whoever busies himself with Torah brings about peace to the higher and lower entourages, as it says, or the one who takes hold of my fortress brings about peace for me, he brings about peace for me [Is. 27.5]." Rabbi Levi said, "It is as if he made the upper and lower palaces, as it says, And I put my words in your mouth, and I covered you with the shadow of my hand, in order to plant the heavens and found the earth [Is. 51.16]." He even brings the redemption closer, as it says, and to say to Zion, 'you are my people.'"
Notes
For a more detailed discussion on this, see Herbert Chanan Brichto, The Problem of "Curse" in the Hebrew Bible (Journal of Biblical Literature Monograph Sereies XIII; Philadelphia, Penn.: JBL, 1963).
Josef Scharbert, "'Fluchen' und 'Segen' im Alten Testament," Biblica 29(1958): 1-26 (9).
Translation by Yitzhak Tzvi Langermann, in Yemenite Midrash: Philosophical Commentaries on the Torah - An Anthology of Writings from the Golden Age of Judaism in the Yemen (San Francisco, Calif.: Harper Collins, 1996), 79.