(לח) דַּבֵּ֞ר אֶל־בְּנֵ֤י יִשְׂרָאֵל֙ וְאָמַרְתָּ֣ אֲלֵהֶ֔ם וְעָשׂ֨וּ לָהֶ֥ם צִיצִ֛ת עַל־כַּנְפֵ֥י בִגְדֵיהֶ֖ם לְדֹרֹתָ֑ם וְנָ֥תְנ֛וּ עַל־צִיצִ֥ת הַכָּנָ֖ף פְּתִ֥יל תְּכֵֽלֶת׃ (לט) וְהָיָ֣ה לָכֶם֮ לְצִיצִת֒ וּרְאִיתֶ֣ם אֹת֗וֹ וּזְכַרְתֶּם֙ אֶת־כׇּל־מִצְוֺ֣ת ה' וַעֲשִׂיתֶ֖ם אֹתָ֑ם וְלֹֽא־תָת֜וּרוּ אַחֲרֵ֤י לְבַבְכֶם֙ וְאַחֲרֵ֣י עֵֽינֵיכֶ֔ם אֲשֶׁר־אַתֶּ֥ם זֹנִ֖ים אַחֲרֵיהֶֽם׃ (מ) לְמַ֣עַן תִּזְכְּר֔וּ וַעֲשִׂיתֶ֖ם אֶת־כׇּל־מִצְוֺתָ֑י וִהְיִיתֶ֥ם קְדֹשִׁ֖ים לֵאלֹֽקֵיכֶֽם׃
(38) Speak to the Israelite people and instruct them to make for themselves fringes on the corners of their garments throughout the ages; let them attach a cord of blue to the fringe at each corner. (39) That shall be your fringe; look at it and recall all the commandments of the LORD and observe them, so that you do not follow your heart and eyes in your lustful urge. (40) Thus you shall be reminded to observe all My commandments and to be holy to your God.
(א) וַיִּקַּ֣ח קֹ֔רַח בֶּן־יִצְהָ֥ר בֶּן־קְהָ֖ת בֶּן־לֵוִ֑י וְדָתָ֨ן וַאֲבִירָ֜ם בְּנֵ֧י אֱלִיאָ֛ב וְא֥וֹן בֶּן־פֶּ֖לֶת בְּנֵ֥י רְאוּבֵֽן׃ (ב) וַיָּקֻ֙מוּ֙ לִפְנֵ֣י מֹשֶׁ֔ה וַאֲנָשִׁ֥ים מִבְּנֵֽי־יִשְׂרָאֵ֖ל חֲמִשִּׁ֣ים וּמָאתָ֑יִם נְשִׂיאֵ֥י עֵדָ֛ה קְרִאֵ֥י מוֹעֵ֖ד אַנְשֵׁי־שֵֽׁם׃ (ג) וַיִּֽקָּהֲל֞וּ עַל־מֹשֶׁ֣ה וְעַֽל־אַהֲרֹ֗ן וַיֹּאמְר֣וּ אֲלֵהֶם֮ רַב־לָכֶם֒ כִּ֤י כׇל־הָֽעֵדָה֙ כֻּלָּ֣ם קְדֹשִׁ֔ים וּבְתוֹכָ֖ם ה' וּמַדּ֥וּעַ תִּֽתְנַשְּׂא֖וּ עַל־קְהַ֥ל ה'׃
(1) Now Korah, son of Izhar son of Kohath son of Levi, betook himself, along with Dathan and Abiram sons of Eliab, and On son of Peleth—descendants of Reuben—
(2) to rise up against Moses, together with two hundred and fifty Israelites, chieftains of the community, chosen in the assembly, men of repute.
(3) They combined against Moses and Aaron and said to them, "You have gone too far! For all the community are holy, all of them, and the LORD is in their midst. Why then do you raise yourselves above the LORD's congregation?"
וַיִּקַח קֹרַח. מַה כְּתִיב לְמַעְלָה מִן הָעִנְיָן, דַּבֵּר אֶל בְּנֵי יִשְׂרָאֵל וְאָמַרְתָּ אֲלֵיהֶם וְעָשׂוּ לָהֶם צִיצִת (במדבר טו, לח). קָפַץ קֹרַח וְאָמַר לְמֹשֶׁה, אַתָּה אוֹמֵר, וְנָתְנוּ עַל צִיצִת וְגוֹ' (שם). טַלִּית שֶׁכֻּלָּהּ תְּכֵלֶת, מַה הִיא שֶׁיְּהֵא פְּטוּרָה מִן הַצִּיצִית. אָמַר לוֹ מֹשֶׁה, חַיֶּבֶת בְּצִיצִית. אָמַר לוֹ קֹרַח, טַלִּית שֶׁכֻּלָּהּ תְּכֵלֶת אֵינָהּ פּוֹטֶרֶת עַצְמָהּ, וְאַרְבָּעָה חוּטִין פּוֹטֵר אוֹתָהּ.

כְּשֶׁאָמַר מֹשֶׁה, וְנָתְנוּ עַל צִיצִת הַכָּנָף פְּתִיל תְּכֵלֶת (שם טו, לח), מֶה עָשָׂה קֹרַח. מִיָּד צִוָּה וְעָשָׂה מָאתַיִם וַחֲמִשִּׁים טַלִּיתוֹת תְּכֵלֶת, וְנִתְעַטְּפוּ בָּהֶן אוֹתָן חֲמִשִּׁים וּמָאתַיִם אִישׁ רָאשֵׁי סַנְהֶדְרָאוֹת שֶׁקָּמוּ עַל מֹשֶׁה, כְּעִנְיָן שֶׁנֶּאֱמַר: וַיָּקוּמוּ לִפְנֵי מֹשֶׁה וַאֲנָשִׁים מִבְּנֵי יִשְׂרָאֵל חֲמִשִּׁים וּמָאתַיִם. וּמִי הֵם. נְשִׂיאֵי עֵדָה קְרִיאֵי מוֹעֵד אַנְשֵׁי שֵׁם. עָמַד קֹרַח וְעָשָׂה לָהֶם מִשְׁתֶּה, וְנִתְעַטְּפוּ כֻּלָּן בְּטַלִּיתוֹת תְּכֵלֶת וּבָאוּ בְּנֵי אַהֲרֹן לִטֹּל מַתְּנוֹתֵיהֶן חָזֶה וְשׁוֹק הַיָּמִין. עָמְדוּ כְּנֶגְדָן וְאָמְרוּ לָהֶם, מִי צִוָּה אֶתְכֶם לִטֹּל כָּךְ, לֹא מֹשֶׁה. לֹא נָתַן לָכֶם כְּלוּם, שֶׁלֹּא דִּבֵּר עִמּוֹ הַמָּקוֹם מִזֶּה. בָּאוּ וְהוֹדִיעוּ לְמֹשֶׁה. הָלַךְ מֹשֶׁה לְפַיְּסָן. מִיָּד עָמְדוּ כְּנֶגְדוֹ, שֶׁנֶּאֱמַר: וַיָּקוּמוּ לִפְנֵי מֹשֶׁה
(Numb. 16:1:) "Now Korah […] took." What is written above the matter (in Numb. 15:38)? "Speak unto the Children of Israel and tell them to make tassels (zizit) for themselves.'" Korah quickly said to Moses, "In the case of a prayer shawl (tallit) which is all blue, what is the rule about it being exempt from [having] the tassel?" Moses said to him, "[Such a prayer shawl] is required to have the tassels." Korah said to him, "Would not a prayer shawl which is all blue exempt itself, when four [blue] threads exempt it? ...
Then Moses said (in Numb. 15:38), "And put on the tassel of each corner a thread of blue," what did Korah do? He immediately ordered them to make two hundred and fifty blue shawls for those two hundred and fifty heads of sanhedraot who rose up against Moses to wrap themselves in, just as it is stated (in Numb. 16:2), "And they rose up against Moses, together with two hundred and fifty men from the children of Israel." And who are they? (Numb. 16:2, cont.:) "Princes of the congregation, chosen in the assembly, men of repute." Korah arose and made them a banquet at which they all wrapped themselves in blue prayer shawls. [When] Aaron's sons came to receive their dues, [namely the] breast and right thigh, they arose against them and said to them, "Who commanded you to receive such? Was it not Moses? [If so,] we shall not give you anything, as the Holy One, blessed be He, has not commanded it." They came and informed Moses. He went to placate them. They immediately confronted him, as stated (ibid.), "And they rose up against Moses."
In modern Hebrew idiom, the sarcastic expression, "a completely blue tallit" (טלית שכולה תכלת) is widely used to refer to something that is ostensibly, but not really, absolutely pure, immaculate and virtuous. (An English parallel might be calling someone "Mr. Perfect.") The expression stems from rabbinic lore about the biblical figure Korah who led a revolt against the leadership of Moses and Aaron. Koraḥ was said to have asked Moses a number of vexatious, mocking questions, one of which was, "Does a tallit made entirely of blue yarn require tzitzit?" To Moses' affirmative answer, Koraḥ objected that an ordinary (undyed) tallit is rendered 'kosher' (meaning, in this context, ritually fit to be worn) by attaching to its corners the tzitzit tassels, whose key feature was the single thread of blue (פתיל תכלת) contained in each tassel.[18] If so, what addition of holiness[19] could the tzitzit contribute to a tallit which was made entirely of the same sky-blue yarn?
The notion implicit in questions like this attributed by the rabbis to Koraḥ is the same as that expressed in Koraḥ's challenge to Moses and Aaron (Numbers 16:3), "The entire congregation is holy, and God is in their midst, so why do you exalt yourselves above God's congregation?" Koraḥ ostensibly subscribed to the laws that were the subject of his questions to Moses, but was really using them to mock and discredit Moses. Therefore, Koraḥ's question about a tallit made entirely of blue yarn, which is ostensibly "more kosher than tzitzit" but is really not, since it still requires tzitzit, became, in Hebrew idiom, an epithet used sarcastically against hypocritical displays of false piety.
The phrase "more kosher than tzitzit" is a Yiddish metaphoric expression (כשר'ער ווי ציצית) with similar connotations but is not necessarily used in a sarcastic sense. It can refer, in the superlative, to something that is really so perfect and flawless as to be beyond all reproach or criticism.
(see Wikipedia – Tallit)
הָאֹֽמְרִים֙ קְרַ֣ב אֵלֶ֔יךָ אַל־תִּגַּשׁ־בִּ֖י כִּ֣י קְדַשְׁתִּ֑יךָ אֵ֚לֶּה עָשָׁ֣ן בְּאַפִּ֔י אֵ֥שׁ יֹקֶ֖דֶת כׇּל־הַיּֽוֹם׃
Who say, "Keep your distance! Don't come closer! For I would render you consecrated." Such things make My anger rage, Like fire blazing all day long.
כי קדשתיך. כי קדשתי וטהרתי יותר ממך כן ת"י:
for I am holier than you Heb. כִּי קְדַשְׁתִּיךָ. For I am holier and purer than you. In this manner Targum Yonatan renders.
(לו) וְעָשִׂ֥יתָ צִּ֖יץ זָהָ֣ב טָה֑וֹר וּפִתַּחְתָּ֤ עָלָיו֙ פִּתּוּחֵ֣י חֹתָ֔ם קֹ֖דֶשׁ לַֽה'׃
(לז) וְשַׂמְתָּ֤ אֹתוֹ֙ עַל־פְּתִ֣יל תְּכֵ֔לֶת וְהָיָ֖ה עַל־הַמִּצְנָ֑פֶת אֶל־מ֥וּל פְּנֵֽי־הַמִּצְנֶ֖פֶת יִהְיֶֽה׃
(לח) וְהָיָה֮ עַל־מֵ֣צַח אַהֲרֹן֒ וְנָשָׂ֨א אַהֲרֹ֜ן אֶת־עֲוֺ֣ן הַקֳּדָשִׁ֗ים אֲשֶׁ֤ר יַקְדִּ֙ישׁוּ֙ בְּנֵ֣י יִשְׂרָאֵ֔ל לְכׇֽל־מַתְּנֹ֖ת קׇדְשֵׁיהֶ֑ם וְהָיָ֤ה עַל־מִצְחוֹ֙ תָּמִ֔יד לְרָצ֥וֹן לָהֶ֖ם לִפְנֵ֥י ה'׃
(36) You shall make a frontlet of pure gold and engrave on it the seal inscription: "Holy to the LORD."
(37) Suspend it on a cord of blue, so that it may remain on the headdress; it shall remain on the front of the headdress.
(38) It shall be on Aaron's forehead, that Aaron may take away any sin arising from the holy things that the Israelites consecrate, from any of their sacred donations; it shall be on his forehead at all times, to win acceptance for them before the LORD.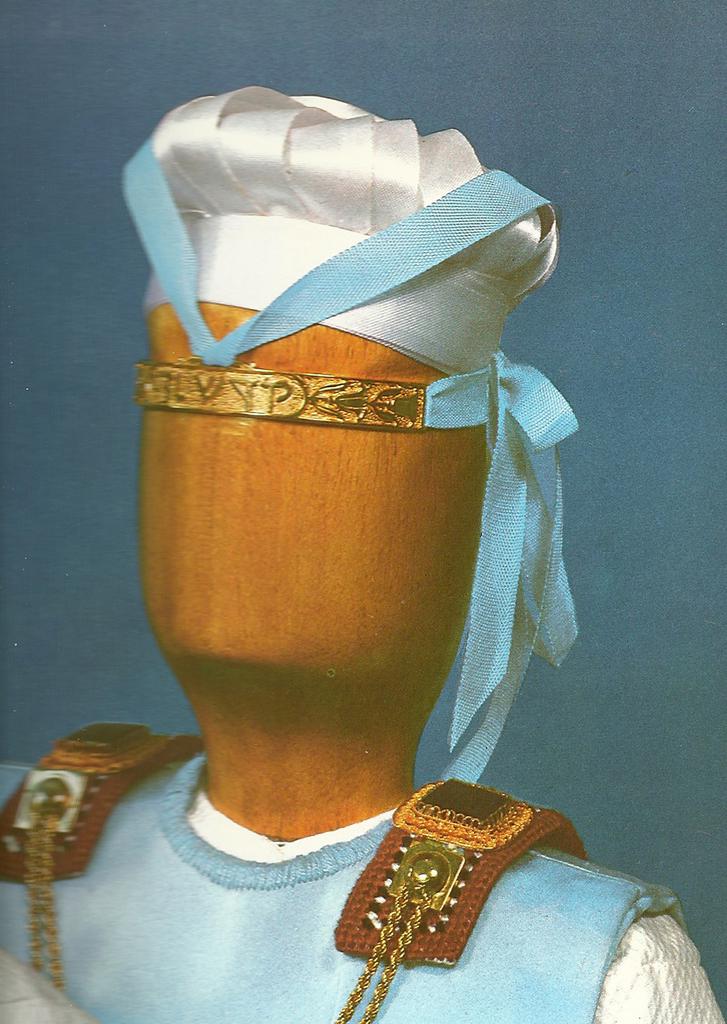 אמר ליה אביי לרב שמואל בר רב יהודה הא תכילתא היכי צבעיתו לה אמר ליה מייתינן דם חלזון וסמנין ורמינן להו ביורה [ומרתחינן ליה] ושקלינא פורתא בביעתא וטעמינן להו באודרא ושדינן ליה לההוא ביעתא וקלינן ליה לאודרא
§ Abaye said to Rav Shmuel bar Rav Yehuda: How do you dye this sky-blue wool to be used for ritual fringes? Rav Shmuel bar Rav Yehuda said to Abaye: We bring blood of a ḥilazon and various herbs and put them in a pot and boil them. And then we take a bit of the resulting dye in an egg shell and test it by using it to dye a wad of wool to see if it has attained the desired hue. And then we throw away that egg shell and its contents and burn the wad of wool.
ת"ר תכלת אין לה בדיקה ואין נקחית אלא מן המומחה תפילין יש להם בדיקה ואין ניקחין אלא מן המומחה ספרים ומזוזות יש להן בדיקה וניקחין מכל אדם
The Sages taught in a baraita: There is no reliable method of testing sky-blue wool, and therefore it may be purchased only from an expert. There is a method of testing phylacteries to ensure they were written properly, but nevertheless they may be purchased only from an expert. There is a method of testing Torah scrolls and mezuzot, and they may be purchased from anyone.
אמר הקב"ה אני הוא שהבחנתי במצרים בין טפה של בכור לטפה שאינה של בכור אני הוא שעתיד ליפרע ממי שתולה מעותיו בנכרי ומלוה אותם לישראל ברבית וממי שטומן משקלותיו במלח וממי שתולה קלא אילן בבגדו ואומר תכלת הוא
Rava explains: The Holy One, Blessed be He, said: I am He Who distinguished in Egypt between the drop of seed that became a firstborn and the drop of seed that did not become a firstborn, and I killed only the firstborn. I am also He Who is destined to exact punishment from one who attributes ownership of his money to a gentile and thereby lends it to a Jew with interest. Even if he is successful in deceiving the court, God knows the truth. And I am also He Who is destined to exact punishment from one who buries his weights in salt, as this changes their weight in a manner not visible to the eye. And I am also He Who is destined to exact punishment from one who hangs ritual fringes dyed with indigo [kala ilan] dye on his garment and says it is dyed with the sky-blue dye required in ritual fringes. The allusion to God's ability to distinguish between two apparently like entities is why the exodus is mentioned in all of these contexts.
וַיֹּאמֶר ה' אֶל מֹשֶׁה לֵאמֹר, דַּבֵּר אֶל בְּנֵי יִשְׂרָאֵל וְאָמַרְתָּ אֲלֵיהֶם וְעָשׂוּ לָהֶם צִיצִת עַל כַּנְפֵי בִּגְדֵיהֶם.
נִתְכַּסָּה בְּטַלִּית, וְעָשׂוּ לָהֶם צִיצִת. וְעָשׂוּ לָהֶם, תַּעֲשֶׂה וְלֹא מִן הֶעָשׂוּי, שֶׁלֹּא יוֹצִיא נִימִין מִן הַטַּלִּית וְיַעֲשֶׂה מֵהֶן צִיצִת, אֶלָּא מִצְוָה לְהָבִיא לָבָן וּתְכֵלֶת וְיַעֲשֶׂה. אֵימָתַי, כְּשֶׁיִּהְיֶה תְּכֵלֶת. וְעַכְשָׁו אֵין לָנוּ אֶלָּא לָבָן, שֶׁהַתְּכֵלֶת נִגְנַז, מִצְוָה בְּלָבָן.
(Numb. 15:38:) "Then the Lord spoke unto Moses saying, 'Speak unto the Children of Israel and tell them to make tassels for themselves.'" Make them, and not that they shall be from [something already] made. Thus one must not extract threads from the cloak [itself] and make [tassels] from them. Rather [it is] a command to get [fresh] white and blue threads to make them. When [did this rule apply]? When there was [a real] blue, but now we only have white, because the blue has been hidden. (Ibid., cont.:)
Yigal Yadin found a bundle of blue wool in an archeological excavation in a cave in the Ein Gedi desert. Clearly the blue wool showed that the Jewish rebels who occupied the cave observed the techelet commandment, but what testing in Yadin's lab showed, was that the die used was in fact not from the hillazon mollusk and was therefore proof of how widespread the corruption had spread.
The irony of the rebel Jews confronting imperial Rome with a stash of the Royal techelet….recorded in a book written by a secular Israeli archaeologist who was also a chief of staff of the IDF, and who knows his Talmud and understands the socio-economic trials of Second century Jews…. is almost too much to take!
"With it we found several unfinished ritual fringes (or sisioths). The colour of this dyed wool was identical with that of the Tyrian purple (obtained from Murex brandaris) believed by many to be the BiblicalTkheleth, the colour of the sisith. However, an analysis by Edelstein and Abrahams of the Dexter Chemical Corporation of New York showed that the colour of our fringes -as not obtained from Murex brandaris, but rather from indigo and carminic acid. (Carminic acid is the colour principle of the well-known kermes dye, obtained from the female of the insect Coccus ilicis which lives on a particular species of oak [Quercus coccifera] and is even today considered very precious.) This offered us a chance to learn very important facts about the problems of the trueTkheleth which confronted pious Jews, and were of great concern to the rabbis. In disturbed times, as those of Bar-Kokhba, it was most difficult to obtain this expensive dye and it was thus often imitated and faked. Since in practice it was almost impossible to tell the real Tkheleth from the imitation, the rabbis ruled: 'There is no manner of testing theTkheleth; it should therefore be bought only from an expert' (Babylonian Talmud, Menahot 42b). Some makeshift tests, the Talmud records, were actually confusing. How a bundle of wool, such as ours, dyed not with Tyrian purple but – as ascertained by Edelstein and Abrahams through infra-red spectro-photometry – with indigo, kermes and highly sophisticated mordants which gave it the appearance of true purple, would stand up under these tests, is unknown. Let us, at least, give the people of the cave the benefit of the doubt, that they bought it bona fide from a non-expert, unaware that it was an imitation. According to the Talmud (Babylonian Talmud, Baba Metzia 6Ib): 'It is I who will exact vengeance from him who attached to his garments threads dyed with indigo and maintains that it is Tkheleth.' In other words, the real crime was when the fake was deliberate." (Bar-Kokhba: The Rediscovery of the Legendary Hero of the Last Jewish Revolt Against Imperial Rome, Yigael Yardin, 1971 pp 83-84)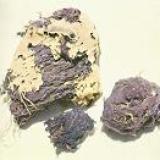 אָמַר רַב יְהוּדָה אָמַר שְׁמוּאֵל: הֲלָכָה כְּרַבִּי טַרְפוֹן. וְאַזְדָּא שְׁמוּאֵל לְטַעְמֵיהּ, דַּאֲמַר לְהוּ שְׁמוּאֵל לְהָנְהוּ דִּמְזַבְּנֵי אַסָּא: אַשְׁווֹ וְזַבִּינוּ, וְאִי לָא — דָּרֵישְׁנָא לְכוּ כְּרַבִּי טַרְפוֹן.
Rav Yehuda said that Shmuel said: The halakha is in accordance with the opinion of Rabbi Tarfon. And Shmuel conforms to his line of reasoning, as Shmuel said to those who were selling myrtle branches: Equate the price that you demand for myrtle branches to their value and sell your myrtle branches. And if you do not do so and overcharge, I will teach the halakha in public for you in accordance with the opinion of Rabbi Tarfon, who allows the use of myrtle branches whose tops are severed.
In preparing for the First Zionist Congress in Basel in 1897, Wolffsohn wrote: "What flag would we hang in the Congress Hall? Then an idea struck me. We have a flag—and it is blue and white. The talith (prayer shawl) with which we wrap ourselves when we pray: that is our symbol. Let us take this Talith from its bag and unroll it before the eyes of Israel and the eyes of all nations. So I ordered a blue and white flag with the Shield of David painted upon it. That is how the national flag, that flew over Congress Hall, came into being." Morris Harris, a member of New York Hovevei Zion, used his awning shop to design a suitable banner and decorations for the reception, and his mother Lena Harris sewed the flag. The flag was made with two blue stripes and a large blue Star of David in the center, the colours blue and white chosen from the design of the tallit. See Wikipedia: Flag of Israel