The First Plague: Water Is Changed into Blood, James Tissot
(דָם) Ex. 7:14–24
This is what the LORD says: By this you will know that I am the LORD: With the staff that is in my hands I will strike the water of the Nile, and it will be changed into blood. The fish in the Nile will die, and the river will stink and the Egyptians will not be able to drink its water. — Exodus 7:17–18
The Second Plague: And Aaron stretched out his hand over the Waters of Egypt and the Frogs came up and covered the Sand of Egypt etching
(צְּפַרְדֵּעַ): Ex. 7:25–8:15
The Second Plague: And Aaron stretched out his hand over the Waters of Egypt and the Frogs came up and covered the Sand of Egypt etching
This is what the great LORD says: Let my people go, so that they may worship me. If you refuse to let them go, I will plague your whole country with frogs. The Nile will teem with frogs. They will come up into your palace and your bedroom and onto your bed, into the houses of your officials and on your people, and into your ovens and kneading troughs. The frogs will go up on you and your people and all your officials.— Exodus 8:1–4
The Third Plague: Moses, horned (a sign of his encounter with divinity), carries the rod, while Aaron, wearing the miter of a priest, stands behind him. The gnats arise en masse out of the dust from which they were made and attack Pharaoh, seated and crowned, and his retinue (by William de Brailes, collection Walters Art Museum)
Lice (כִּנִּים): Ex. 8:16-19
The Third Plague: Moses, horned (a sign of his encounter with divinity), carries the rod, while Aaron, wearing the miter of a priest, stands behind him. The gnats arise en masse out of the dust from which they were made and attack Pharaoh, seated and crowned, and his retinue (by William de Brailes, collection Walters Art Museum)
"And the LORD said [...] Stretch out thy rod, and smite the dust of the land, that it may become lice throughout all the land of Egypt." […] When Aaron stretched out his hand with the rod and struck the dust of the ground, lice came upon men and animals. All the dust throughout the land of Egypt became lice. — Exodus 8:16–17
The Hebrew noun כִּנִּים (kinim) could be translated as lice, gnats, or fleas.
The Fourth Plague: The Plague of Flies by James Jacques Joseph Tissot at the Jewish Museum, New York
(עָרוֹב): Ex. 8:20-32
The word 'arob has caused a difference of opinion among traditional interpreters.The root meaning is (ע.ר.ב), meaning a mixture - implying a diversity, array, or assortment of harmful animals. While Jewish interpreters understand the plague as "wild animals" (most likely scorpions, venomous snakes, and other venomous arthropods and reptiles), Gesenius along with many Christian interpreters understand the plague as a swarm of flies.
The Fifth Plague: Livestock Disease (Ex. 9:2-3), by Gustave Doré
(דֶּבֶר): Ex. 9 This is what the LORD, the God of the Hebrews, says: Let my people go, so that they may worship me. If you refuse to let them go and continue to hold them back, the hand of the LORD will bring a terrible plague on your livestock in the field—on your horses and donkeys and camels and on your cattle and sheep and goats. — Exodus 9:1–3
The Sixth Plague: Miniature out of the Toggenburg Bible (Switzerland) of 1411
(שְׁחִין): Ex. 9:8–12
Then the LORD said to Moses and Aaron, "Take handfuls of soot from a furnace and have Moses toss it into the air in the presence of Pharaoh. It will become fine dust over the whole land of Egypt, and festering boils will break out on men and animals throughout the land." — Exodus 9:8–9
The Seventh Plague: John Martin's painting of the plague of hail (1823).
(בָּרָד): Ex. 9:13–35
This is what the LORD, the God of the Hebrews, says: Let my people go, so that they may worship me, or this time I will send the full force of my plagues against you and against your officials and your people, so you may know that there is no one like me in all the earth. For by now I could have stretched out my hand and struck you and your people with a plague that would have wiped you off the earth. But I have raised you up for this very purpose, that I might show you my power and that my name might be proclaimed in all the earth. You still set yourself against my people and will not let them go. Therefore, at this time tomorrow I will send the worst hailstorm that has ever fallen on Egypt, from the day it was founded till now. Give an order now to bring your livestock and everything you have in the field to a place of shelter, because the hail will fall on every man and animal that has not been brought in and is still out in the field, and they will die. […] The LORD sent thunder and hail, and lightning flashed down to the ground. So the LORD rained hail on the land of Egypt; hail fell and lightning flashed back and forth. It was the worst storm in all the land of Egypt since it had become a nation. — Exodus 9:13–24
The Eighth Plague: The Plague of Locusts, illustration from the 1890 Holman Bible
(אַרְבֶּה): Ex. 10:1–20[edit]
The Eighth Plague: The Plague of Locusts, illustration from the 1890 Holman Bible
This is what the LORD, the God of the Jews, says: 'How long will you refuse to humble yourself before me? Let my people go, so that they may worship me. If you refuse to let them go, I will bring locusts into your country tomorrow. They will cover the face of the ground so that it cannot be seen. They will devour what little you have left after the hail, including every tree that is growing in your fields. They will fill your houses and those of all your officials and all the Egyptians—something neither your fathers nor your forefathers have ever seen from the day they settled in this land till now. — Exodus 10:3–6
The Ninth Plague: Darkness by Gustave Doré
(חוֹשֶך): Ex. 10:21–29[edit]
The Ninth Plague: Darkness by Gustave Doré
Then the LORD said to Moses, "Stretch out your hand toward the sky so that darkness will spread over Egypt—darkness that can be felt." So Moses stretched out his hand toward the sky, and total darkness covered all Egypt for three days. No one could see anyone else or leave his place for three days.
— Exodus 10:21–23
Wikipedia: Paul Gustave Louis Christophe Doré (/dɔːˈreɪ/; French: [ɡys.tav dɔ.ʁe]; 6 January 1832 – 23 January 1883) was a French artist, printmaker, illustrator, comics artist, caricaturist, and sculptor who worked primarily with wood engraving.
Doré was born in Strasbourg on 6 January 1832. By age 5 he was a prodigy artist, creating drawings that were mature beyond his years. Seven years later, he began carving in stone.[citation needed] At the age of 15, Doré began his career working as a caricaturist for the French paper Le journal pour rire.[2] Wood engraving was his primary method at this time.[3]In the late 1840s and early 1850s, he made several text comics, like Les Travaux d'Hercule (1847), Trois artistes incompris et mécontents (1851), Les Dés-agréments d'un voyage d'agrément (1851) and L'Histoire de la Sainte Russie (1854). Doré subsequently went on to win commissions to depict scenes from books by Cervantes, Rabelais, Balzac, Milton, and Dante. He also illustrated "Gargantua et Pantagruel" in 1854.[citation needed]
In 1853 Doré was asked to illustrate the works of Lord Byron.[4] This commission was followed by additional work for British publishers, including a new illustrated Bible. In 1856 he produced 12 folio-size illustrations of The Legend of The Wandering Jew, which propagated longstanding antisemitic views of the time,[5] for a short poem which Pierre-Jean de Béranger had derived from a novel of Eugène Sue of 1845.[6][7][8] In the 1860s he illustrated a French edition of Cervantes's Don Quixote, and his depictions of the knight and his squire, Sancho Panza, have become so famous that they have influenced subsequent readers, artists, and stage and film directors' ideas of the physical "look" of the two characters.[9] Doré also illustrated an oversized edition of Edgar Allan Poe's "The Raven", an endeavor that earned him 30,000 francs from publisher Harper & Brothers in 1883.[10]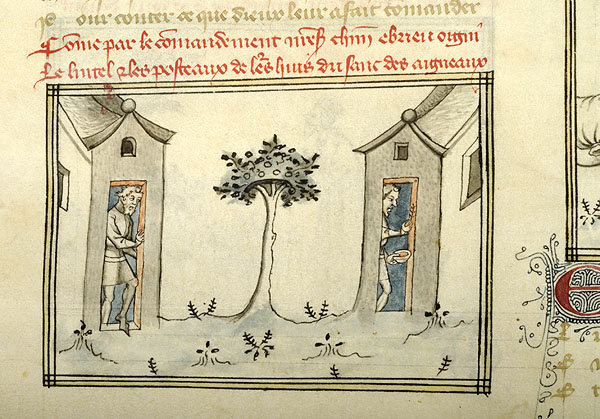 Moses: Plague of Firstborn. Two Israelites marking the doorposts and lintels of their homes with the blood of the sacrificial lamb. History Bible, Paris, c. 1390. Morgan Library, M.526, fol. 14v
(מַכַּת בְּכוֹרוֹת): Ex. 11:1–12:36
This is what the LORD says: "About midnight I will go throughout Egypt. Every firstborn son in Egypt will die, from the firstborn son of Pharaoh, who sits on the throne, to the firstborn of the slave girl, who is at her hand mill, and all the firstborn of the cattle as well. There will be loud wailing throughout Egypt—worse than there has ever been or ever will be again."
— Exodus 11:4–6
Moses: Plagues of Flies, Frogs, Locusts, Hail and Pestilence. Stuttgart Psalter, c. 820-830. Stuttgart Landesbibliothek, Bibl.fol.23, fol. 93r. Photograph by Gabriel Millet.
Ashkenazi Haggadah, North Italy/Germany, 1460-75
Golden Haggadah, Barcelona, 1320
Passover Haggadah. Hamburg and Altona, 1740