The Writing Circle is a project of Maharat and Sefaria, bringing together women with significant experience in teaching, writing, and publishing Torah, and providing them with a space to workshop their ideas and take their writing careers to the next level. This program includes funding for coaching and editing, as well as peer mentorship, to allow these authors to hone their voices and expand their craft.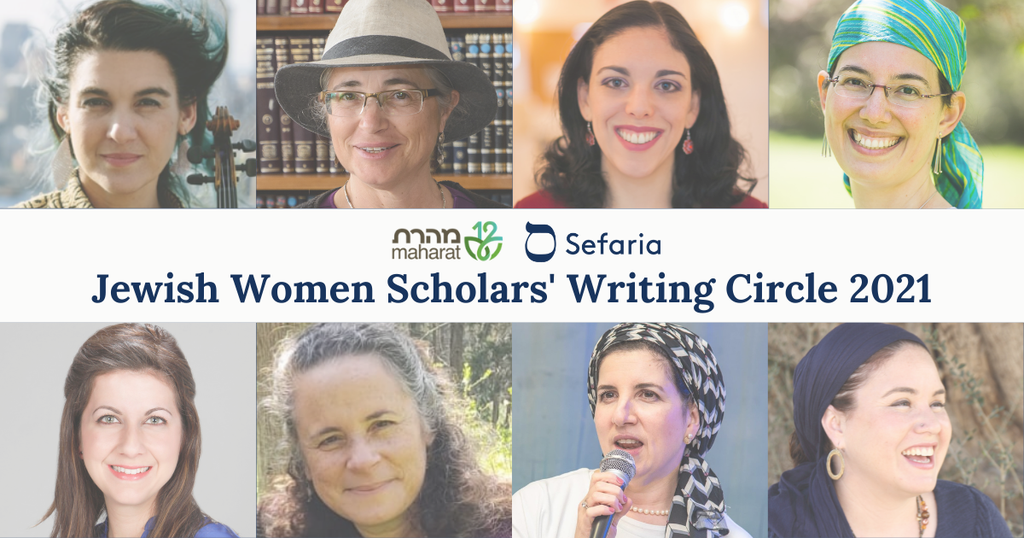 Rahel Berkovits is a senior faculty member at the Pardes Institute of Jewish Studies in Jerusalem, where she has been teaching Mishnah, Talmud and halakha for over twenty years. Rahel lectures widely in both Israel and abroad, especially on topics concerning women and Jewish law, and a Jewish sexual ethic. She is the Halakhic Editor and a writer for Hilkhot Nashim, the Jewish Orthodox Feminist Alliance's halakhic source-guide series, recently published by Maggid Books. Rahel is a founding member of Congregation Shirah Hadasha, a halakhic partnership synagogue, and serves on their halakha committee. In June 2015, Rahel received Rabbinic Ordination from Rabbis Herzl Hefter and Daniel Sperber.
Gila Fine is editor in chief of Maggid Books (Koren Publishers Jerusalem). She is also a teacher of Aggada, exploring the tales of the Talmud through philosophy, literary criticism, psychoanalysis, and pop-culture. Gila is faculty member at the Pardes Institute of Jewish Studies, the London School of Jewish studies, and the Nachshon Project, and has taught thousands at conferences and communities across the Jewish world. Haaretz has called her "a young woman on her way to becoming one of the more outstanding Jewish thinkers of the next generation."
Rabbanit Batya Hefter is the founder and director of the Transformative Torah Initiative, an educational program devoted to in-depth study of traditional texts and the development of a Jewish Contemplative Community. Transformative Torah translates the wisdom of Jewish traditional sources, particularly the Isbhitz-Hasidic masters, into a vital ethical spiritual path for people today. Batya holds an MA in Rabbinic Thought from The Hebrew University in Jerusalem. She is the Founding Rosh Beit Midrash of The Women's Beit Midrash of Efrat and Gush Etzion, where she served for over two decades as executive director. Batya is currently actively engaged in writing her first book.
Alicia Jo Rabins is an award-winning writer, musician, performer and Torah teacher. She is the author of two poetry books, Divinity School (winner of the APR/Honickman First Book Prize) and Fruit Geode (a finalist for the Jewish Book Award). As a musician, Rabins is the creator and performer of Girls in Trouble, an indie-folk song cycle about women in Torah with three albums and accompanying study guides. Most recently she is the creator, star, and composer of A Kaddish for Bernie Madoff, an indie feature film based on her one-woman chamber-rock opera, currently on the film festival circuit, which The Atlantic calls "a blessing." Visit her at www.aliciajo.com
Rabbanit Surale Rosen heads Shayla, Matan Women's Halakhic Responsa Online where she writes and edits answers to Halakhic questions sent online. She's a graduate of Matan's Advanced Talmud Institute and headed Metivta, Matan's Advanced Talmud Programme. Rabbanit Surale is also a certified Rabbinic Arbitrator and has a certificate in mediation for family conflict resolution from The Israeli Centre for Negotiation and Mediation. Surale graduated the first cohort of Matan's Hilkhata Programme. She holds degrees in Talmud and English Literature from Bar Ilan University. She teaches Gemara, Halakha and Midrash in Matan Hashmonaim and in various communities and shuls. Rabbanit Surale is a member of Beit Hillel where she's active in the organization's programmes for female religious leadership. Surale lives in Jerusalem with her husband, Rabbi Dr. Shlomo Dov Rosen, Rabbi of the Yakar community, and is a grateful mother of girls and boys.
Rabbanit Dr. Jennie Rosenfeld is currently part of Kolech's Lamdaniyot program, serving as a female religious leader in the Katamonim neighborhood in Jerusalem. Previously, she served as the Manhiga Ruchanit in Efrat for five years, where she also directed the rabbinic court for financial matters. She completed the Susi Bradfield Women's Institute for Halakhic Leadership program at Midreshet Lindenbaum and received permission to give halakhic rulings ("heter hora'ah") from Rabbi Shlomo Riskin and Rav Shuki Reich. In addition, she holds a PhD in English from the City University of New York Graduate Center, where she wrote her dissertation on "Talmudic Re-readings: Toward a Modern Orthodox Sexual Ethic" as a Wexner Graduate Fellow. She co-authored Et Le'ehov: The Newlywed's Guide to Physical Intimacy (Gefen 2011; Hebrew translation 2013). Rabbanit Jennie has taught Torah in high schools and adult education internationally and was named one of the "36 under 36" by the Jewish Week in 2008.
Dr. Malka Z. Simkovich is the Crown-Ryan Chair of Jewish Studies and the director of the Catholic-Jewish Studies program at Catholic Theological Union in Chicago. She is the author of The Making of Jewish Universalism: From Exile to Alexandria (2016) and Discovering Second Temple Literature: The Scriptures and Stories That Shaped Early Judaism (2018), which received the 2019 AJL Judaica Reference Honor Award. Simkovich's articles have been published in journals such as the Harvard Theological Review and the Journal for the Study of Judaism, as well as on online forums such as The Lehrhaus, TheTorah.com, and The Times of Israel. She is a member of Hartman Institute's Chicago Scholars' Circle and is involved in numerous local and international interreligious dialogue projects, including dialogue partnerships with leaders at the Archdiocese of Chicago and the USCCB (United States Bishops Council), and regularly lectures to communities nationally and internationally.
Tamar Weissman is a licensed tour guide in Israel and has spent the last two decades teaching Tanakh and Israel Studies to women. She lives with her husband and children on their family farm in the Galilee. Tamar is the author of Tribal Lands: The Twelve Tribes of Israel in their Ancestral Territories (Pomerantz Press, 2018). Her second book (forthcoming), a collaborative effort with Batnadiv haCarmi-Weinberg, is a presentation of the midrashic approach to Esther with an emphasis on the petichtot in M. Megillah.