We're excited to share some of the latest developments from Sefaria's Learning Department!
Upcoming June Webinars
For learners of all backgrounds, take your Jewish learning to the next level! Register for a webinar here. Can't attend live? Don't worry! As long as you're registered, we'll send you the recording afterwards.
Torah Talks
The new Torah Talks collection features recorded chavruta learning sessions with award-winning journalists, authors, judges, and more! Recordings feature diverse approaches to Torah study with well-known figures such as Dahlia Lithwick, Dan Ariely, Deborah Lipstadt, Noah Feldman, and others. Register here to access the collection.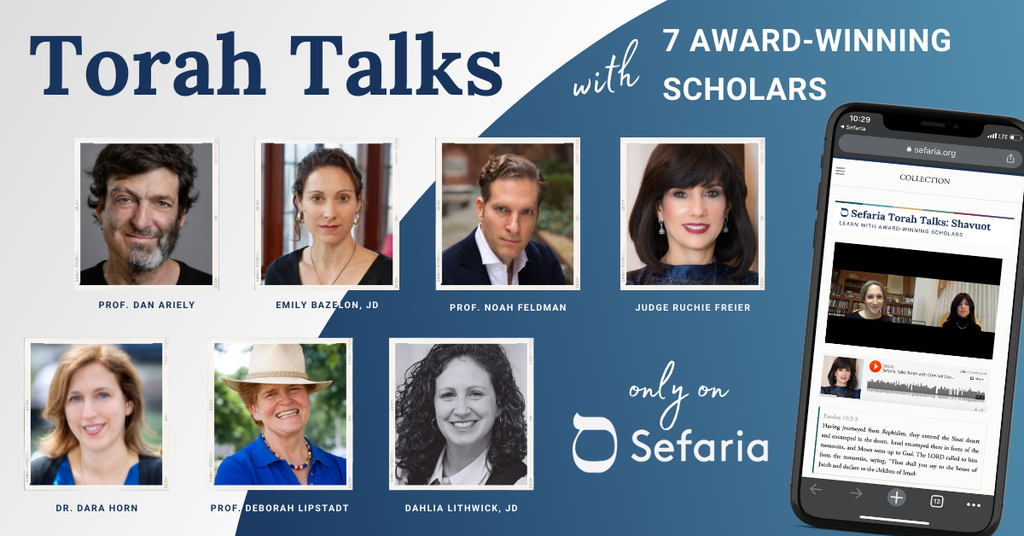 Want to receive updates about additional materials curated and created by Sefaria's Learning Department? Sign up for our educator newsletter!
---
A New Online Space for Educators!
Did you know we have a page on Sefaria dedicated to supporting educators? Stay up to date with the latest news and resources from Sefaria on our newly updated Teach with Sefaria page. You will find professional development opportunities, collections of lesson plans and guided source sheets to use in your study and teaching, and much more. Bookmark this page and add it to your toolkit!
---
Conference for Day School Educators
In June, we brought together Jewish Studies teachers from across the country for an interactive convening to (virtually) share their reflections, frustrations, successes, and take-aways from the past year-and-a-half. Graphic artist Estee Ellis did some creative visual note-taking during the afternoon sessions. We hope you enjoy her creations, which you can find here.
In addition to highlighting educators' voices throughout the convening, several students made an appearance and powerfully described their own experiences. Click here to check out the program schedule and watch the special "flipped keynote address" with Sefaria's co-Founder, Josh Foer.


---
Curious to know more about what's in the works? Sefaria's Learning Department is excited to provide you with Torah as you relax and recharge wherever you may find yourself this summer. This collection of Sefaria's Summer Reads features some of our favorite sheets for you to learn and read through this summer on topics ranging from rest and relaxation to travel and transitions. Don't forget to share some of the Torah you learn and love with others, too. Happy Summer!